Are you a disruptor?
Join the Challenge!
SUBMISSIONS NOW CLOSED - STAY TUNED FOR ANNOUNCEMENTS
Entrepreneurs
Helping Corporates Innovate
Part 1: Reverse Pitch Event
February 28, 2019 — Six companies pitched their innovation needs to a curated audience of 200+ talented innovators and entrepreneurs in the Pittsburgh region. This group represented key regional technology expertise including artificial intelligence, software development, life sciences, and object recognition.

Part 2: Innovation Challenges
Submissions Closed June 17, 2019 — Highmark Health, Rio Tinto and SAST (Bosch) are currently sponsoring Innovation Challenges with pilot funding and support for entrepreneurs or startups that can bring innovative solutions to address these companies' needs.
You can read more information about each company's innovation challenge below. The challenge submissions are now closed, but stay tuned for announcements about selecting semi-finalists.
The Innovation Challenges
'Video Analytics at the Edge'
Security and Safety Things (a Bosch Startup) is focused on security/safety for cameras and IoT devices, including disruptive advances needed in the detection and tracking of persons/objects.
Innovation Challenges: We are looking for solutions in the following areas: (1) fundamental detection and tracking capabilities that leverage state-of-the art AI technologies, (2) retail queue analytics solutions, (3) mobility and smart-city analytics solutions. SAST plans to provide $20k to support a 6-week proof-of-concept pilot.
'Identifying & Sorting of Fine Materials'
Rio Tinto supplies the metals and minerals that help the world to grow. Our 47,000 people work in around 35 countries across six continents. RTIT (Rio Tinto Iron and Titanium), part of Energy & Minerals, is the group originating this challenge.
Innovation Challenge: We are seeking new sorting and separation technologies for high-value mineral concentrate (75 – 250 µm particles) in a continual feeding system. The challenge winner will receive at least $25k funding for an initial proof-of-concept pilot, as well as additional support from our organization. These mineral grains may be small, but the business opportunity is big, given the scope and scale of our operations.
'Navigating the Health Spectrum'
Highmark Health understands that the healthcare ecosystem – billing, care, locations, scheduling, payments, knowledge sharing – is incredibly complex to navigate.
Innovation Challenges: How can we help patients navigate all aspects of their health and enable us to provide guidance 365 days-a-year as a partner in their health? If we select your submission as the winner, Highmark Health can provide pilot funding, along with technical and market expertise for an initial pilot project.
Submissions for the Spring 2019 Innovation Challenges are closed. To add your name to our mailing list for future challenges, please see sign-up form at bottom of page.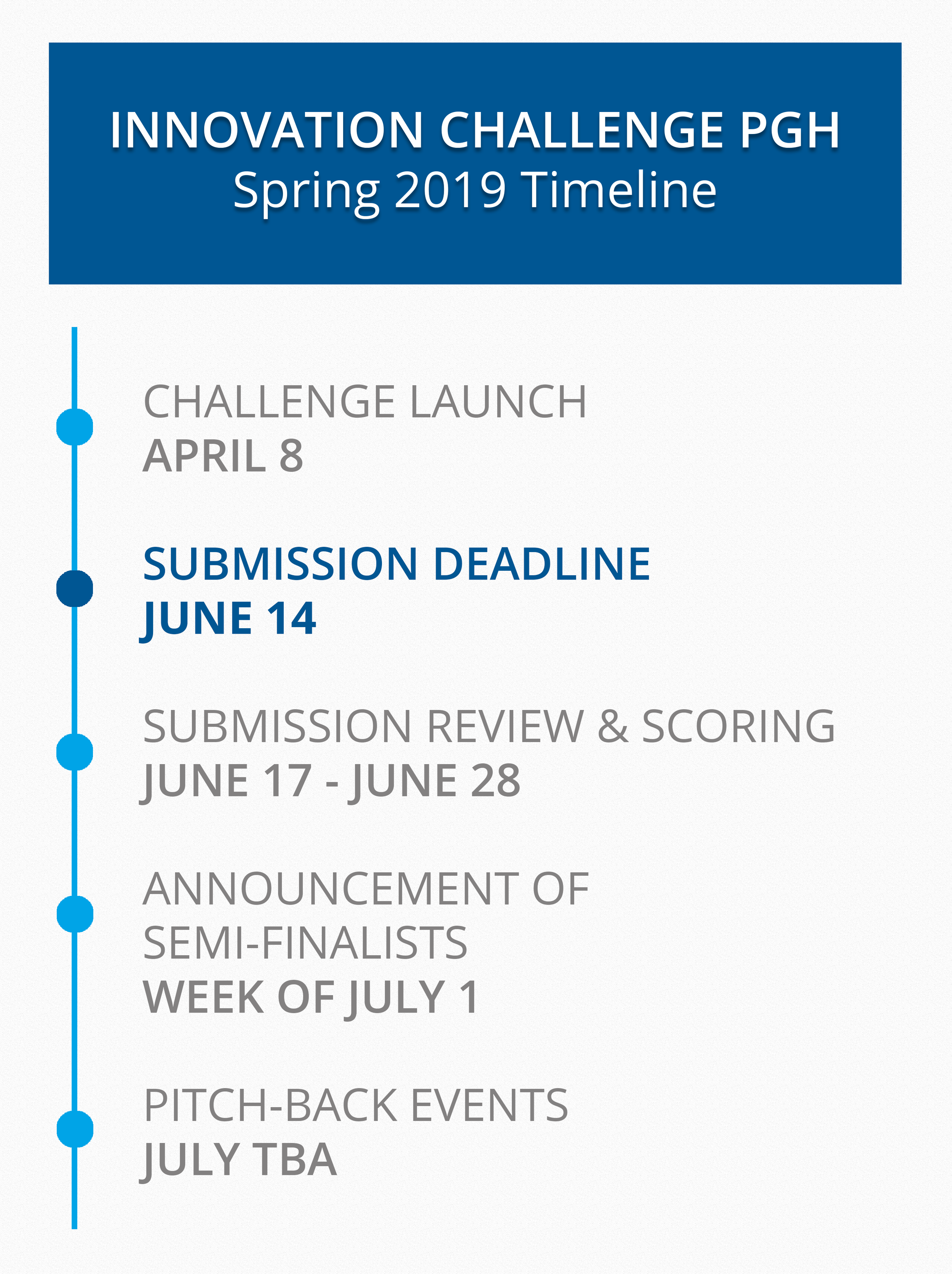 How Can I Enter?
· Read the above challenge statements and supplemental information.
· Register via the link above to access the innovation challenge submission form and additional information.
· Submit your proposal via the challenge website no later than June 14, 2019.
· You will be notified if you have been selected as a semi-finalist on or around June 24, 2019.
· Semi-finalists will be invited to 'pitch-back' to the sponsoring company in July (official dates TBA).
Judging Criteria
Submissions for each corporation's individual challenge will be evaluated by a panel of judges (company representatives) based on the following criteria:
· Customer/Market Focus
· Potential Impact
· Implementation Feasibility
· Quality of Team/People
· Quality of Submission
Interested? Sign-up for Updates
Quick Links
SKILD Platform
We are utilizing SKILD's challenge-management software for this program and SKILD is also a generous sponsor.